WHAT IS BAMBOO COTTON AND WHAT ARE THE BENEFITS
Nowadays bamboo fabrics are an increasingly popular production of raw material in the textile and apparel industries. As people are more aware about the environment, sustainability becomes a trend among people all around the world. Technologies allow bamboo fiber to be used for a wide range of textile and fashion applications. Bamboo yarn can also be blended with other textile fibers such as hemp or organic cotton. Bamboo is an alternative to plastic and renewable fabric.
Bamboo has a lot of incredible properties, they are not just beneficial to humans but also friendly to the environment. If you are looking to learn more about bamboo cotton fabric, I hope this blog will give you some useful information that you can also apply to your daily life.
WHAT IS BAMBOO COTTON?
"Bamboo Cotton" is another innovation that brings natural fibers from bamboo trees and woven them into premium quality fabrics. Bamboo cotton fabrics allow us to feel the softness with inexpensive price and durability. Bamboo cotton fabrics also contribute to reducing global warming and create a less environmental footprint.
Bamboo trees can grow up to 3 feet or more in a day, they are considered to be one of the most sustainable natural materials and bamboo is a plant that has good water absorption.
Bamboo trees can grow without fertilizers, insecticides and require less labor in cultivation. Therefore the fabrics made from the bamboo fiber are biodegradable materials and without chemical residues. The roots of bamboo trees are naturally sprouting themselves, they don't need to use a tractor for preparing the soil before planting. Bamboo trees also have the ability to help restore and preserve soil conditions, as well as to prevent soil erosion.
The bamboo fiber can keep our body warm in good condition and be breathable in the hot weather. The bamboo fabric is soft, smooth, and antistatic. The nature of bamboo fibers is rounded and does not have a sharp spur to irritate the skin, making it best suitable for people who have sensitive skin and experience an allergy to other natural fibers such as wool or hemp.
FEATURES OF BAMBOO COTTON

Bamboo cotton can be made into apparel that suits the weather. Bamboo fabric has breathable properties that can make us feel cool in the hot weather and will keep us warm in the cold weather. It can absorb moisture because inside the bamboo fibers have a lot of porosity and these pores allow fibers to absorb moisture and quickly volatile. Compared to cotton, bamboo is able to absorb 3-4 times better. This makes the people who wear them feel comfortable and it also helps prevent the bacteria.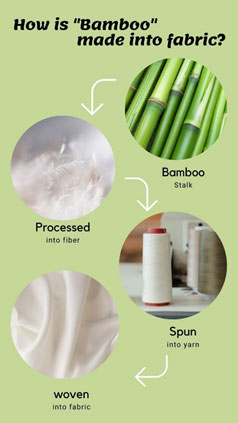 5 FEATURE OF BAMBOO COTTON FABRIC
1. Bamboo cotton fabric can absorb infrared light (IR) and release them. It causes good blood circulation and improves the body's metabolism
2. Bamboo fibers have antibacterial and antifungal resistance.
3. Breathable and easy drying. Bamboo fiber has a lot of micro-holes inside, so they are working on absorbing moisture and sweat, better and faster than other fiber fabrics. It will keep you feeling dry and comfortable.
4. Deodorant property, since bamboo charcoal has a porous structure, it can absorb gasoline, phenols, methyl alcohol, and other harmful substances.
5. Bamboo can be washed without reducing the quality of the fabric. Even though it has been washed several times it will keep the same shape and softness.
BENEFITS OF BAMBOO COTTON

1. Sustainable
Bamboo is naturally pest-resistant, meaning it doesn't need to be sprayed with pesticides and it can grow naturally without the fertilizer.
2. Eco-friendly
Since bamboo requires no chemicals and little water to grow, it's a truly planet-friendly material. Bamboo plants improve air quality more than cotton, as bamboo absorbs more carbon dioxide from the air, and releases more oxygen back into the environment.
3. Soft to the skin
Because bamboo cotton has antibacterial and hypoallergenic properties, bamboo clothing is the best idea for people with skin sensitivities, or for those who just want the most comfortable experience.
4. Luxurious feel
Bamboo cotton may have many practical benefits, but when it is made into clothes, comfort is very important. Bamboo cotton has a luxurious feel, it's silky soft and light on the skin.
5. Durable
When you have to rebuy your clothes every month or every year, bamboo cotton clothes are the best choice for you. Since bamboo fiber is very durable and easy to take care of, you can use it for a long term, moreover it will help to save your money and also creates lower waste.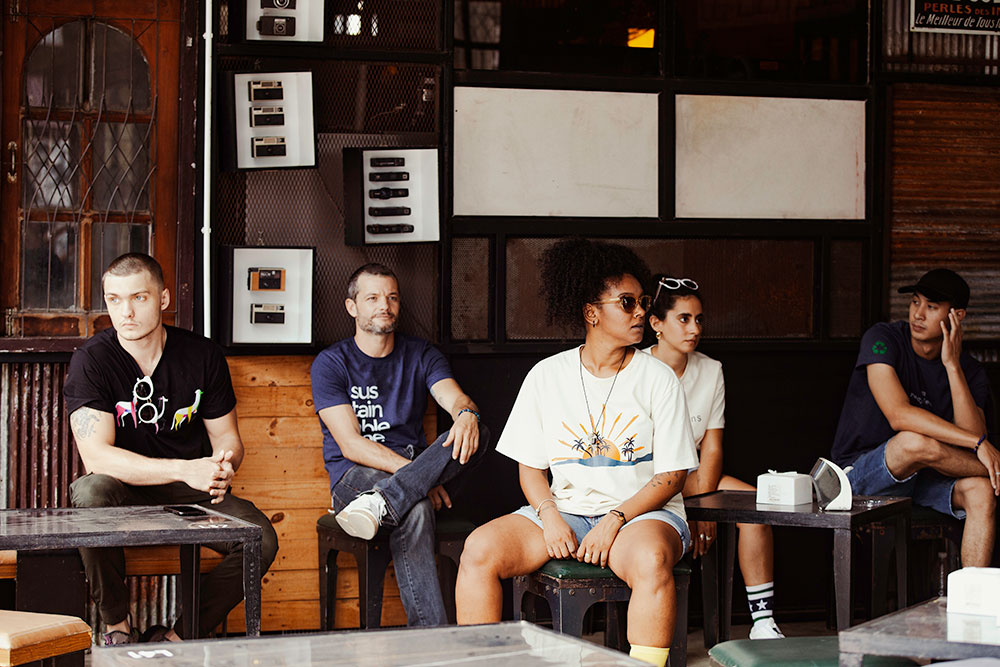 Our factory is sustainable streetwear, we also provide high-quality bamboo fabric with a variety of colors and are available for producing both adult and children's wear. The most popular and trendy product made of bamboo fabric from our factory is bamboo t-shirts.
Apart from cutting and sewing we also offer artwork services such as screen printing, embroidery as well as patches. Our team will help to assist and take care of your project from the design, choosing the material, production, until the shipping (available worldwide shipping).
At CRE8 streetwear, the most important thing for us is to offer the best quality production at a reasonable price. We care more than fashion, design, and beauty, what we also give importance to are the people's life and the planet, our mission is to be the best factory that focuses on ethical responsibility and environmental concerns. We will always provide the clients our best and keep the high quality and best on services as our priority.
Contact us for your bamboo cotton clothing quote!