The weather is one of the important things that we have to consider when we dress. As we all know, it's very important to keep ourselves warm in the winter and keep the body cool in the summer. There will be a different trip or technique to dress in each season.

In the summer, everyone might want to stay at home, sleep in the air conditioning, but in reality, we often have reasons to go out and live. On a sunny day, it almost burns us to melting point. How do we handle this situation? It is very common for many people to prepare sunscreen, hats or UV umbrellas to protect their body from the sun. But one thing that's close to us and can help us fight the impending heat in the summer is the clothes we're wearing. There's nothing worse than that sticky, sweaty feeling in the hot weather. Choosing clothes to wear in the summer is very important. The best fabrics and materials to wear during hot and humid weather should be a basic knowledge that everybody knows. Summers can be short in many countries but as we know how extreme hot weather is in the summer in the tropics where I am writing this. Wearing breathable clothes can help us enjoy the outdoors activities even in the warmest summer months.
Today CRE8 streetwear we have tricks and trips to share with you how to choose the right fabrics and clothes for the summer.
How to Choose the Right Clothes and Fabrics for Summer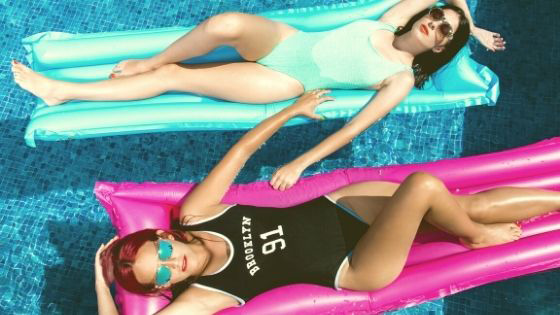 Choose Light and Comfortable Fabrics
First, let's take a look at the fabrics because the fabric will directly touch our skin. In the summer the weather will be hotter than normal, the same shirts that used to be comfortable may not make us feel comfortable anymore. The lighter fabric will be better for our skin in the hot summer. The example of light fabric that we often see is Linen, Cotton, microfiber fabrics, etc.

Natural fabrics like Bamboo and Hemp are also perfect for the hot summer. If you are looking for a t-shirt to wear in the summer, bamboo, hemp, or cotton would be a better choice than a polyester t-shirt.

UV Resistant

For those who have to go outdoors often, another item that we think everyone should have in the summer is a robe or hoodie. Because the sunshine in the summer is not only hot. But it comes with a lot of burning and skin problems. The cotton hoodie with a weight of 200-280 gsm. is lighter than conventional coats and easy to match with everyday looks. That's why it's a must have item for the summer.

Bright Colours
If you are a person who likes to wear black or dark clothing, the cool black you love may not be suitable for the weather in summer because black color has light-absorbing properties. So try changing to light-colors clothes such as white, light grey or pastel.
Choose a Cool, Fast Drying Shirt
In the summer the weather is very hot, it will keep you sweating no matter which way you move. If the cloth you are wearing is not well cooled, it will make your skin sticky, sweat or even worse if you have a smell. Therefore, one of the things that everyone should strongly consider when choosing clothes for the summer is the "cooling properties".

What's cool clothes look like? It is easy to note that the fabric is usually thin and soft because it is woven with fibers. You can wear it as a lining or match to other clothes without feeling hot or uncomfortable during the day. What you get is that no matter how much you sweat, It will soon be dry and odorless.
Don't Wear Tight Clothes
Tight clothes like Dave-legged jeans, Turtlenecks, climbing necklines, and chic necklines may have to be avoided, as these clothes are very tight and uncomfortable to wear. We better wear something like a loose skirt or a slightly oversized shirt so that we can stay active all day without feeling uncomfortable or unbreathable.

Oversized T-shirts are also one of the popular items that are suitable for every season. There are a lot of materials for t-shirts to choose from nowadays. We can see many brands using sustainable materials like organic cotton, Hemp, bamboo, or Tencel for t-shirts. It's not only because those materials are good for the environment, but they have an incredible ability to dissipate the heat, softer, and be breathable.

Breathable Fabrics to Wear in The Summer
COTTON
Cotton is one of the best fabrics for summer and hot weather and when thinking about how to choose clothes and fabrics for summer, cotton has always traditionally been one of the best materials. Not only is it cheap and hugely available, but it is also great for the heat. Cotton is soft, lightweight, breathable, and soaks up sweat, allowing heat to escape the body. There are also a variety of cotton blends that have different qualities.

Here at CRE8 streetwear we offer high quality cotton 100%, both in organic and regular, also available many options for cotton blend such as cotton-polyester, cotton-hemp, and more.
The Benefit: This natural fiber allows air to circulate & move freely through the fabric, which makes the heat more breathable. Cotton comes in countless styles and colors, meaning that we can find a cotton garment to fit very easily.
Tip: Remember, cotton can shrink in the dryer. In the summer, we should take an extra minute to hang dry cotton garments. This way would keep the quality of cotton garments stay longer than using a dryer.
CHAMBRAY/DENIM
Denim fabric is made of cotton so it can be breathable and absorbs sweat just like cotton, but denim tends to be a heavier fabric that's why some people might prefer chambray more. Chambray is often described as an imitation denim, so it has all of the same benefits as denim, but is a lot lighter in weight. The Benefit: Finer weave & breathable fabric.

Tip: Chambray and denim has a similar look just to remember that chambray will have a lighter weight.
RAYON
Rayon is best in dry heat. Since it's still not a natural fiber, it won't be able to absorb moisture as well as cotton. Rayon has very thin fibers, which allows it to breathe more than other fabrics and prevents it from sticking to the body when we are sweating. The Benefit: Rayon is a thinner thread than cotton, so it's great for delicate, lightweight clothing. It was also invented as a cheaper alternative to silk which can be so comfortable and cooling to wear.

Tip: Rayon can shrink when washed in warm water. You can do hand washing in cold water as well, but dry clean rayon would be better because it can avoid shrinkage or damage.

LINEN
Linen is another alternative for a breathable fabric to wear in hot weather conditions and when thinking about how to choose clothes and fabrics for summer, Linen is among the best. It is also very light and loosely woven. It absorbs a lot of moisture and dries quickly, keeping us cool and dry. Our factory offers many types of fabrics for the summer collection as well as high-quality linen cotton which is best for t-shirts or tank tops. The Benefit: The natural fiber and light weave allow for maximum breathability and it is not sticking to our body.

Tip: We may need to iron linen clothes every time before wearing them. Since linen wrinkles pretty often, but a lot of people like it, and view it as a part of the style of linen.


THE SUSTAINABLE FABRICS/ ECO-FRIENDLY FABRICS
Sustainable fabric or eco-friendly fabrics like Bamboo, Organic cotton, Hemp or Recycled poly-cotton are also top choices for summer fabrics. The sustainable fabrics not only create the smallest environmental footprint but they are made of the natural fiber from pants. Why sustainable fabrics such as Bamboo, Hemp, Organic cotton and Recycled poly-cotton are best for summer fabric? Because they are has good ventilation properties and are breathable. Other than that, natural fiber in the fabric will not irritate the skin and will keep you comfortable while wearing them in the hot weather or when you are sweating.

The Benefit: The sustainable fabrics are more durable than other man-made fabrics or synthetic fabrics, breathable, and friendly to humans and the environment.
Tip: The sustainable fabrics like Hemp, Organic Cotton, bamboo, and recycled poly-cotton are surprisingly simple to care for and get pleasantly softer over time. You can wash it by hand or machine with cold water, press with warm iron as desired. It is very easy to take care of and we recommend using an eco-friendly detergent not just for the benefit to the planet, but also because they are gentler on fabrics and less likely to irritate the skin.

Have a question for us about how to choose clothes and fabrics for summer? Get in touch if you have any questions or comments or want to find out more about CRE8 Streetwear!