What is Direct to Film (DTF) Printing?
DTF or Direct to film printing is a unique printing technology that involves printing designs onto special films for transfer onto garments. DTF printing is a heat transfer process that has the ability to last as long as traditional silkscreen prints.
DTF printing is very versatile. We can print transfers in advance and press them when required. DTF transfers can be applied to many different surfaces and items that would otherwise be very awkward to print on.

Pros of Direct to Film Printing:
• Very high quality detail of fine lines which would be impossible with silk screen
• DTF gives us much more flexibility, as we can print on a variety of fabrics, including hemp, bamboo, organic cotton, Recycled polyester/cotton soft cotton, polyester, rayon, nylon, silk, leather, and more.
• One of the many advantages of DTF printing is that garments do not require any pre-treating in order to accept a transfer. This can streamline our operations and potentially lower the costs.
• Overall, the DTF printing process is quicker and requires less labor than DTG printing.
• We use it for one off samples as its relatively cheaper for small runs.

Cons of Direct to Film Printing:
• Even though DTF feels a lot better than laser heat transfers, it is still not as soft as DTG printing.
• For a very detailed artwork DTF printing can peel after a repeat washes.
• Very time consuming.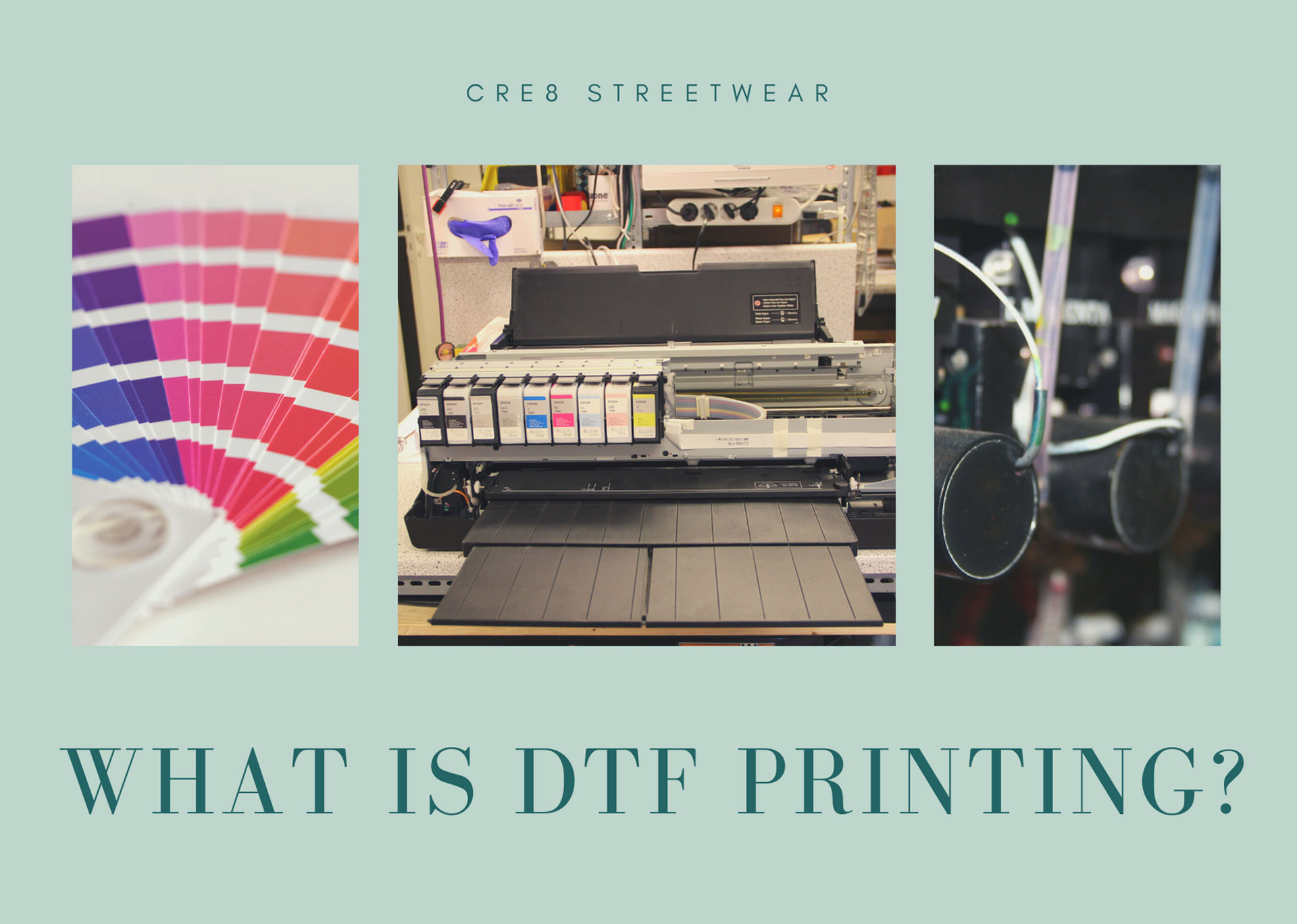 CRE8 Streetwear offers services of Direct to Film printing on every type of products including T-shirts, Hoodies, Jumpers, Sweatpants,etc.
The price of DTF print for a single color start with A4 sizes will be estimated at 140 THB.
or around 4.20 USD. per unit. DTF printing requires time to print on the fabric but unlike silk screen printing because we don't have to wait for the ink to be dry.
The color of print can be any color you like. If printing more than one color the price will increase, depending on the size and design of your artwork.
At CRE8 streetwear you can get your pieces done from sewing to printing with a very impressive quality and affordable price.

Like this blog? Read more here!